Chiropractic Care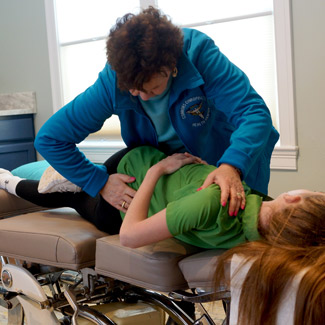 Safe, noninvasive and drug-free, chiropractic care is remarkably effective when it comes to managing a variety of conditions. Here are some of the conditions for which chiropractic is ideal: bowel issues, digestive issues, headaches, ear infections, menstrual problems and respiratory issues.
Our Techniques
Having performed thousands and thousands of adjustments over her 30-plus years in practice, Dr. Mary Connors has many techniques that she uses:
Occipital Analysis (posture check)
Sacro Occipital Technique/blocking
The Benefits of Chiropractic Care
When you're under chiropractic care, you may experience more vitality, better sleep, greater function, improved immune system and many other incredible "side effects."
How Often Do I Need to Come In?
If you're in pain, Dr. Connors may see you daily at first then switch over to three times a week, then reassess and reduce the schedule accordingly.
What's an Adjustment Like?
Dr. Connors uses her hands during an adjustment so you may hear a popping sound. That's simply the pressure escaping from the joints; the joint is under liquid, gas and pressure. Consider it like opening a bottle of champagne! Start feeling your best with chiropractic care. Contact Connors Chiropractic Health Center in Stoughton today to book an appointment!
Watch this short video from Palmer College of Chiropractic to learn more about what chiropractic is.

Chiropractic Care Stoughton | (781) 436-5006