Meet Dr. Mary Connors
Staying Healthy in Childhood and Beyond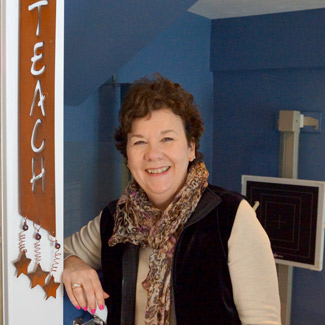 Raised in a chiropractic care environment with a father and uncle who were chiropractors in the state, Dr. Connors developed a passion for the field after seeing firsthand its many benefits. Her dad and uncle were true pioneers in chiropractic and had tremendous zeal and conviction.
As a child growing up, Dr. Connors had measles, German measles, chicken pox and mumps. Because she and her brother were adjusted, however, they had fewer symptoms than their friends and got better faster. She also witnessed the positive effects of chiropractic on her own two daughters.
Looking at the Whole Person
While attending a Parker Seminar at 17, Dr. Connors heard Dr. Janis Kimble speak about chiropractic and its philosophy. She thought right then that she was going to be a chiropractor someday. Dr. Connors then went on to attend Palmer College of Chiropractic in Davenport, Iowa. In addition to earning her Doctor of Chiropractic, she began attending Concept Therapy seminars, which focused on a holistic approach to health care. She spent many hours learning information about the mind-body connection.
That's where the Zone analysis comes in as it looks at the whole person. The system is used to check the body and look at the six health systems of the body to determine which one is off and to adjust the subluxated vertebrae accordingly. The systems are glandular, eliminative, nerve, digestive, muscular and circulatory. Then there are four vertebrae that are associated with each one of the systems.
Providing Pregnancy and Pediatric Care
Dr. Connors loves working with pregnant moms and discussing natural childbirth with them. She's certified in the Webster Technique and is also comfortable adjusting children. To further her education, she's attended various pediatric seminars.
DISCOVER CHIROPRACTIC »
Staying Active in Stoughton
When she's not at the practice, Dr. Connors enjoys spending time with her family. She also likes reading, swimming, decorating, traveling and flying in small planes; her husband is a pilot. In addition to her hobbies. Dr. Connors is active in Toastmasters International and Rotary International. To stay healthy, she gets adjusted about twice a month as does every member of her family. "It keeps our nervous systems interference-free, our immune systems strong, and we don't seem to get the bugs that go around."
Enjoy better health, naturally, with chiropractic. Contact Connors Chiropractic Health Center today to book an appointment with Dr. Connors!
Chiropractor Stoughton | (781) 436-5006